Bathrooms are no longer just functional spaces; they have evolved into luxurious retreats within our homes. Walk-in showers offer a seamless and stylish alternative to traditional shower enclosures, providing a contemporary and open feel to any bathroom design.
Properly planning the dimensions of a walk-in shower is crucial for maximizing space utilization and enhancing the overall showering experience.
Importance of Walk-in Showers
Walk-in showers offer several advantages over conventional shower setups. They provide easy accessibility, making them ideal for individuals with mobility issues or those who prefer a step-free entry.
Walk-in showers create a sense of spaciousness, allowing for a more relaxing and enjoyable bathing experience.
With the right dimensions, a walk-in shower can also accommodate additional features such as benches, grab bars, and storage solutions.
Standard Walk-in Shower Dimensions
To ensure a comfortable and functional walk-in shower, certain standard dimensions should be considered during the planning phase. Let's explore the key elements:
1. Floor Space
The floor space of a walk-in shower should provide enough room for movement and comfort. The minimum recommended size for a walk-in shower is typically 36 inches by 36 inches (91 cm by 91 cm).
However, if space allows, opting for larger dimensions such as 48 inches by 36 inches (122 cm by 91 cm) or 60 inches by 36 inches (152 cm by 91 cm) can provide a more luxurious showering experience.
2. Door Width
The door width is a critical factor in ensuring easy entry and exit from the shower. For standard accessibility, a minimum door width of 24 inches (61 cm) is recommended.
However, wider doors, such as 30 inches (76 cm) or 36 inches (91 cm), can accommodate individuals with mobility aids or those who prefer a more spacious entrance.
3. Shower Enclosure Height
The height of the shower enclosure plays a significant role in preventing water from splashing outside the designated shower area.
A height of at least 72 inches (183 cm) is generally recommended to contain water effectively. However, taller individuals or those who prefer a more open feel may opt for taller shower enclosures.
4. Bench or Seat
Including a bench or seat in your walk-in shower can enhance comfort and convenience. The dimensions of the bench or seat depend on personal preference, but a width of around 15 inches to 20 inches (38 cm to 51 cm) and a height of 17 inches to 19 inches (43 cm to 48 cm) are commonly used.
It's important to consider the placement and ensure it doesn't obstruct the overall flow of the shower space.
5. Grab Bars and Handrails
For added safety and support, installing grab bars and handrails in a walk-in shower is highly recommended.
The height and positioning of these fixtures should be based on individual needs, but a general guideline suggests a height range of 33 inches to 36 inches (84 cm to 91 cm) for grab bars and handrails.
Shower base with seat 60 x 30
Shower bases with a rectangular 60 x 30 seat range from 30-by-32 inches to 60-by-42 inches. There is also a standard neo-angle base shower for corner showerheads ranging in diameter from 30 inches to 60 inches.
While showerheads and shower mats both channel water down the drain, there is one key difference: "Shower pan" is the floor of the showerhead you step on, while "shower base" refers to the structure beneath the showerhead itself.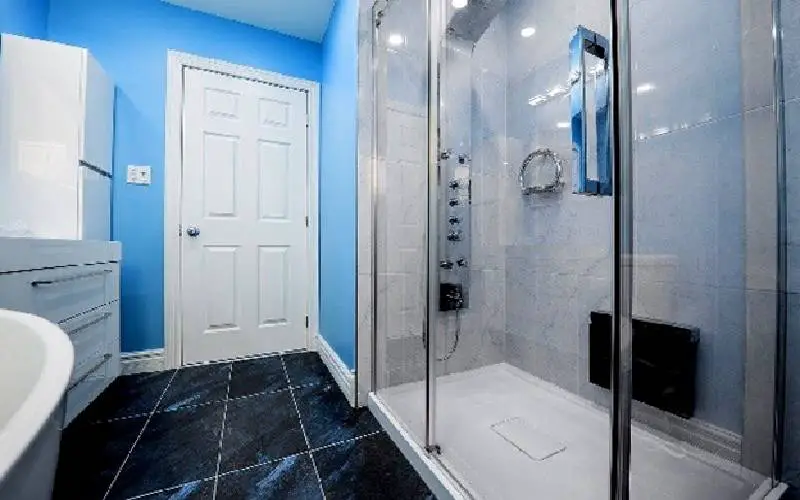 Walk-in shower tray
A walk-in shower tray is simply a larger tray that is similar in size to a bathtub – so generally around 1200 x 600mm or 1600 x 800mm. Sometimes they have exhaust areas with integral grooves to support the easy flow of air back into the waste area.
Available in a variety of styles and sizes, walk-in showers give bathrooms a modern and seamless feel, while offering practical shower solutions.
They can be installed in a niche so that only one pane of glass is shown, or with two panes of glass, as well as with or without a shower tray.
Walk in shower tile ideas
For shower tile ideas, it is generally best to use larger tiles, from tiles measuring 5 inches by 4 inches above to large format tiles in the 10 inch by 25-inch range. From a visual point of view, tiles smaller than 4 inches square create a busy look
You can find many different porcelain shower tiles, but the ones that are easiest to clean are polished or glazed porcelain tiles.
How to Choose the Right Walk in Shower Dimensions
To make the best decision for your bathroom and lifestyle, consider all your options before you choose the right shower size for you.
1. Shower Placement
The type of shower you choose will depend on your space availability. For example, a shower cubicle will offer more flexibility with placement due to its adjustable size and shape.
Be sure to consider increasing accessibility for people who might use the shower as well.
If your bathroom has a sloping ceiling, you can use it to create a comfortable shower environment that also prevents condensation from building up. Consider installing a walk-in shower or bathtub/shower combination under the stairs to free up more floor space elsewhere in the bathroom.
2. Measure the Space
Standard shower size measurements are only for interior shower spaces, so shower installation must take into account the total available space in the bathroom itself.
Measure the height of the room first, as some shower options have a recommended minimum or maximum height. Then measure the area of ​​the square by finding the depth of space followed by its width.
Measurements must be precise so that no extra space is left during installation, or mold and mildew can build up. Professional installation can help ensure that the correct measurements are taken before the process begins.
3. Shower Installation
It is very important that the shower installation is done correctly. If the wrong materials are used or a step is skipped, water and moisture leaks can cause serious problems that can affect the health and value of your home.
Finding a local professional to help with shower additions or renovations can bring peace of mind and allow you to relax and enjoy the results. Fortunately, HomeAdvisor is the perfect bridge between you and professionals you can trust.
Read Also: Bathroom color ideas
What is a good size for a shower cubicle?
The walk-in shower is adjustable and can fit bathrooms of all shapes and sizes. A shower of at least 36 x 36 inches will meet ADA accessibility requirements and provide a comfortable shower environment for most people.
What is the standard shower size?
The showerhead is a prefabricated base for standard enclosures and shower cubicles. The most common sizes are 32 x 32 inches and 36 x 36 inches, while the smallest standard shower sizes are 30 x 30 inches.
What are the standard sizes for bathroom doors?
Regardless of whether your bathroom has a hinged door or a sliding door, most bathroom doors measure between 22 inches and 36 inches.
Sliding doors are most common for shower/tub combinations and are usually half the length of the tub. Standard hinged doors are 26 inches wide and can be found in shower cubicles and steam bathrooms.
What is the standard shower rod size?
Shower rods are commonly found in shower/tub combinations and shower cubicles without doors. The shower rod is adjustable in normal bedroom size, so measure the opening of your shower to find out how long your shower rod is.
Conclusion
Walk-in showers offer a modern and accessible alternative to traditional shower enclosures.
By considering the dimensions carefully, you can create a comfortable and functional shower space that meets your specific needs.
Whether you have a large bathroom or a compact one, customizing the dimensions and optimizing the design will result in a luxurious and enjoyable showering experience.