Exterior brick homes are known for their charm and style, but sometimes these properties can feel a little drab.
For those of us who love the look of Exterior brick, but want to avoid the maintenance that comes with it, it can be tricky to find new ways to dress up your home's exterior without ruining the allure of that brick.
While painting brick might seem like an easy solution, it's not always ideal (and in some cases, it's illegal). So how do you add color to your brick home?
Luckily, there are many ways to liven up your home's exterior using paint and we have some inspirational ideas and pro tips to help add the perfect splash of color to your brick home.
8 Painted Exterior Brick Home Ideas
Adding color to your brick home's exterior can give it new life and make it stand out in the neighborhood.
Whether you want to add one accent wall or redo your whole exterior, there are plenty of paint colors to choose from that will breathe life into your home's look and bring out its best features.
Take a look at these 8 painted exterior brick home ideas that will give you inspiration to add some color to your home's style.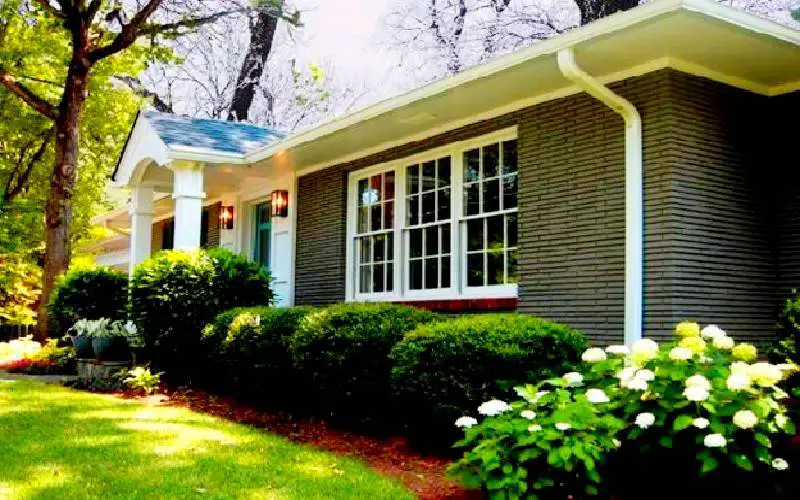 DIY Tip 1: Accent with Color
A simple and cost-effective way to breathe new life into your home is to brighten up a few of your doors, windows or walls with colored paint.
Consider painting some of these key details on your house in colors that match or compliment your overall exterior color scheme.
If you're brave enough, think about bringing bold colors inside with colorful window treatments, accent pillows or even kitchen accents like canisters and serving trays.
DIY Tip 2: Go Bold & Bring it All Back Home
Bring home a color that you adore but wouldn't dream of painting a wall in your house. The exterior is an ideal place to push your color boundaries, particularly when it comes to darker shades like purple, black or teal.
If you're feeling bold, paint one whole side of your house a single color and play with different textures on each brick surface. Break up brick with board-and-batten siding in other areas to create contrast and highlight architectural details.
DIY Tip 3: Make It Pop
Just like a pop of color in your outfit is certain to catch people's attention, adding a pop of color to your brick home can make it stand out in its neighborhood.
For example, you can use bold hues such as red and yellow to add character to your exterior. It's also a good idea to combine both subtle and vibrant colors so that they blend seamlessly with one another.
DIY Tip 4: Under the Lights
If you're looking to add a fresh coat of paint but don't want to spring for hiring a professional painter, consider painting your home at night.
The lights in your yard can illuminate any imperfections or areas that might need some touch-ups, so take advantage of them!
Not only will you save money on hiring someone else, but you can tackle tricky tasks with ease as well. Talk about getting ahead of yourself!
DIY Tip 5: Stay in the Lines
Use a ruler or straight edge to make sure your stripes are nice and straight. Use a level to ensure that any lines at the bottom of your home are perfectly horizontal.
If you need additional help, consider having an extra set of hands on deck when applying your stripe pattern.
That way, one person can hold onto their end while another applies their paint brush in tandem. You'll get your stripes all painted up in no time!
DIY Tip 6: Upcycle a Broken Pot
You might be surprised how many plants you can fit in one large flower pot. Take a second-hand or inexpensive pot, remove all of its contents and paint it an eye-catching color.
Next, plant flowers that come in a variety of colors—purple lobelia, pink snapdragons and white sweet alyssum are our top picks. The plants will grow together to create an eye-catching combination of color that's sure to brighten up your home's exterior.
DIY Tip 7 – Create Some Drama with Lattice!
Ever since you were a kid, it seems that lattice has been synonymous with privacy. At least it was for me—until I had to decorate my own brick home.
Looking back now, I see just how much of an impact lattice can have on a space! Adding anything from wreaths to potted plants over wooden lattice creates texture and depth that's unparalleled.
Go ahead, try it for yourself—you won't be disappointed! (insert helpful link)
DIY Tip 8 – The Simple Ways To Paint Your Front Door (or any Door!)
Painting your front door an accent color is always a good idea. Pick something that works with your home's color scheme and (bonus) will make it stand out from all your neighbors' plain-Jane doors.
Try a bright pink or orange if you want to get noticed—or a bold aquamarine or emerald if you're feeling adventurous.
Your front door needs to grab attention but it doesn't have to be dull, so don't be afraid to use all sorts of colors!
Painting house brick ideas
Whether your home is already brick or you're thinking of adding brick accents to an existing house, painting an exterior brick wall can be a huge design win.
Brick has been popular for centuries for its warmth and ability to stand up well to harsh weather, so it tends to work best in home styles that aren't trying to shy away from its inherent heftiness.
The trick is finding color and style combinations that don't compete with its textural richness.
Painted brick and siding house
Brushed-on, or spray-on, oil-based paints are often used to create a brick pattern on interior walls.
To be sure your painting job is durable, use a primer before applying latex paint and allow it to cure for at least 48 hours.
If you'd rather not repaint an entire wall in brick, add splashes of color with stencils that mimic brick patterns. The same steps can be applied to siding homes.