Changing the paint colors 2022 can bring a new, more comfortable atmosphere to your home. Repaint the walls with a new color starting this year to refresh the mood of your home.
Of course, every year the style of home renovation has different characteristics, ranging from interior and furniture selection to wall paint colors. Don't be confused, this time we have summarized some of the 2022 paint colors that are expected to be popular in 2022.
Check out some of the popular wall paint colors 2022
1. Beige can give the impression of luxury
Just like white, cream color has also become a popular wall paint color from time to time. Beige can be paired with a variety of pastel colors for a comfortable and soothing feel. Plus, beige can increase productivity and encourage creativity in the home.
Therefore, beige can be applied in the living room or children's study room to encourage children to be more creative and enthusiastic about learning. Beige walls also create the illusion of a wider room.
You can combine beige with neutral or pastel-colored furniture such as white, gray, and black.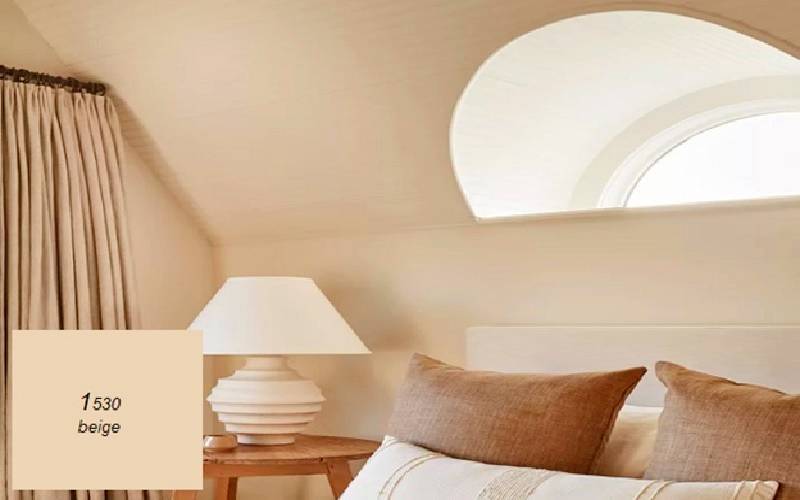 2. Blue charcoal has a calming effect
Charcoal blue is expected to be popular in 2022. Charcoal blue can give a home a comfortable and calming effect because it reminds residents of a house by the sea.
Charcoal blue color can be applied in the living room or bedroom to make it look more classic and modern. You can enhance the charcoal blue color by adding natural shades in the room, such as plants. The goal is to neutralize the impression of rigidity in blue.
Pairing plants with charcoal blue can also give the room a more dynamic look without compromising on the modern and classic style.
3. White gives a simple and comfortable impression
White remains a favorite color to redecorate the house from year to year. White color can make a room look more elegant, simple, and comfortable. So if you want to show an elegant and minimalist side, you can repaint the walls of the house with white.
Feel free to combine white with pastel color decorations to beautify your home. One-color that can be combined with white is yellow.
The combination of yellow and white can add a bright atmosphere without losing the simple and elegant side.
4. Gray gives the impression of luxury
Finally, gray can also bring comfort and luxury to the house. Gray is often paired with lighter shades like yellow, orange, and white to make a room appear brighter.
Do not paint the entire house in gray because it will give a gloomy impression. Use gray as the main color to paint the walls of your home.
5. Lilacs give a cozy feel
Lilac has its own charm in 2022, so hopefully, this color will be even more popular in 2022. The lilac color painted on the walls of the house can bring luxury and serenity to the residents of the house.
The combination of lilac with bright colors like pink, white, and gray can symbolize splendor, joy, and a burning spirit. That is why Mama can use lilac in the bedroom or living room to add comfort while on the move.
Those are some wall paint colors 2022  that are expected to be popular. By changing the color of the walls of your home, you can bring a new vibe and a different feel and make life more interesting without being boring.
Feel free to combine the wall paint color above with modern furniture for added comfort.