Choosing the right hardwood floor color for your home can be a daunting task, as there are so many options to choose from. To help you narrow down your choices, we've compiled a list of the most popular hardwood floor colors.
From classic browns and grays to bold reds and blues, these 10 shades are sure to add a timeless and elegant touch to any home. Read on to find out the top 10 most popular hardwood floor colors and how to incorporate them into your space!
10 Most Popular Hardwood Floor Colors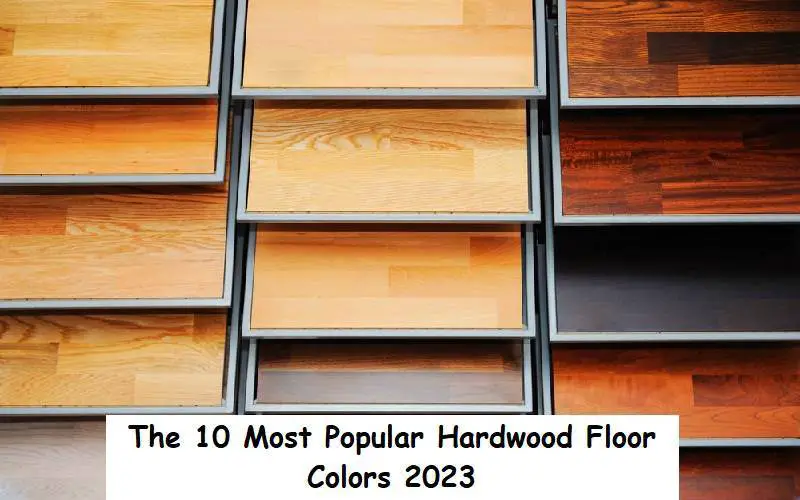 1) Natural
Natural hardwood flooring is an elegant and timeless choice. It's a great option if you're looking for something classic and traditional that will still look good in years to come. Natural wood floors have a beautiful, natural grain and color, which makes them incredibly versatile and able to fit into any decor style.
They also add a warm, cozy feel to any room and are easy to maintain. If you're looking for a neutral tone, natural hardwood floors are the perfect option as they match almost any color scheme. Natural hardwood flooring can also be stained to create a more custom look. With the right care, natural hardwood floors will last for years, making it an excellent long-term investment.
2) Dark Walnut
Dark Walnut is a deep, rich color that is perfect for making a statement in any room. It is a darker shade than most other hardwood floors, but it still has a warm and inviting feel to it. Dark walnut is especially popular for formal areas such as living rooms and dining rooms, but it can also be used in more casual settings such as a den or family room.
It adds depth and dimension to any space, and its dark hue makes it a great backdrop for any furniture or decor. Dark walnut is also very durable and can stand up to heavy foot traffic over time.
3) Espresso
Espresso is a rich and sophisticated color that offers a great contrast to many different decor styles. This dark, deep hue can provide the perfect backdrop to a room's design and add drama. The espresso finish offers a beautiful, warm touch to any home, and it is easy to maintain.
You can mix and match with lighter colors such as cream or beige to add dimension and interest to the room. It is also a great option for those who want to create a modern look in their home. Espresso hardwood flooring is an excellent way to bring out the character of your space without compromising on style.
4) Cherry
Cherry hardwood flooring is a beautiful and luxurious option for your home. The colors range from light pink to dark red and are known for their unique graining pattern and satiny texture. Cherry hardwood floors are often found in formal living spaces, but they also pair nicely with other colors in an open concept space.
To achieve a classic look, try pairing cherry hardwood flooring with white walls and trim for a timeless look. With the right finish, cherry hardwood can be both elegant and modern, making it perfect for any home.
5) Mahogany
Mahogany is a classic hardwood floor color that adds warmth and sophistication to any room. This deep, reddish-brown shade pairs especially well with traditional and rustic styles. It's a great way to add a subtle hint of color to a room without being too bold.
Mahogany is perfect for those looking for an elegant, classic look that won't fade over time. It can be paired with lighter colors such as cream and white, or darker colors like black and navy to create a dramatic effect. If you want a timeless look in your home, mahogany is the perfect choice.
6) Chestnut
Chestnut is a warm and welcoming hardwood floor color that adds a touch of traditional charm to any room. Its rich reddish-brown hue looks great in living rooms, kitchens, and bedrooms alike, making it a versatile choice for many homeowners.
For a classic look, pair chestnut flooring with white cabinetry or off-white walls, as this color can be too dark for some homes. However, it also pairs well with other warm tones like blues, reds, and oranges for an eye-catching contrast. Chestnut hardwood is available in different hues and finishes, so you can find the perfect option for your home.
7) Honey Oak
Honey oak is a classic hardwood flooring option that brings a touch of warmth to your home. This shade is a light honey brown, giving it a natural and inviting look that blends in well with many decor styles. The grain pattern is subtle, adding to the elegant and classic feel of this color.
With a bit of sunlight, the honey oak hardwood floor can bring out beautiful highlights and character. Honey oak is perfect for both traditional and modern homes, and it looks great with furniture in earthy colors such as green, cream, and tan.
8) Jacobean
Jacobean is a classic hardwood flooring choice that has been around for centuries. Its rich, dark hue adds depth and character to any space, making it an ideal choice for living rooms, entryways, or any other room that needs a timeless touch of sophistication.
This color is often associated with the Jacobean period in English history, which featured elaborate carvings and dark, heavy woods. The color itself is a deep, dark brown, almost black hue that pairs beautifully with lighter colors for a dramatic contrast. With its high durability and timeless style, Jacobean hardwood flooring is a great choice for any home.
9) Red Oak
Red oak is a classic hardwood flooring color that has been used in homes for centuries. Its medium reddish-brown hue is timeless and inviting, creating a warm and inviting atmosphere in any room. The natural grain pattern of red oak adds texture and depth to the floor, while its durability makes it a great option for high traffic areas such as hallways and kitchens.
Red oak pairs well with lighter colors like whites and beiges, but can also be used with other darker tones to create a unique look. Red oak is relatively easy to maintain and can be refinished multiple times to keep it looking like new.
10) Weathered Gray
Weathered gray is a beautiful hardwood flooring color that provides a modern, yet rustic feel to any space. This color is great for creating a cozy atmosphere with its grey-brown hue that resembles natural weathering. Weathered gray pairs well with contemporary or rustic décor and adds a unique warmth to your home.
It's a great choice for anyone who wants an understated, but inviting look. Weathered gray floors are easy to maintain, and they can hold up well over time when properly cared for. Whether you're looking to make a statement or create a calming ambiance, weathered gray hardwood flooring is an excellent option.
What is the most popular wood floor color of 2023?
It's hard to say what the most popular wood floor color is, as it can vary depending on factors such as personal preference, location, and current design trends. However, historically, natural and gray tones have been among the most popular wood floor colors in recent years, due to their ability to complement a variety of design styles and color palettes.
Additionally, colors that mimic the look of reclaimed or weathered wood, such as whitewashed or driftwood finishes, have also been popular.
It is also important to note that the popularity of certain colors can vary depending on regions, interior design trends and even fashion.
Latest trends for wood flooring colors in 2022
Gray tones (light to dark), which provide a modern and neutral look.
White-wash and light tones, which create a clean and airy feel.
Honey and light brown tones, which provide a warm and inviting feel.
Walnut and dark brown tones, which create a rich and elegant look.
Warm red tones, which add a touch of warmth and character to a space.
It's important to note that these are just some examples and that there are many more colors and finishes available, and popularity also varies depending on location and interior design trends.