Summer is the perfect time to take a dip in the pool. But if you have young children at home, you might be worried about their safety around the pool area.
The good news is that there are plenty of inexpensive pool fence ideas that you can use to keep your kids safe.
From simple pool covers to more permanent fencing solutions, there are plenty of options to choose from. So whether you're looking for a temporary solution or a more permanent fence.
There are a variety of inexpensive options you can choose from, depending on your budget and pool fencing needs.
Some of the most popular choices include chicken wire or PVC pipes, mesh pool fences, and lockable gates. we've got you covered. Read on for our top 10 inexpensive pool fence ideas!
Benefits of Installing a Pool Fence
Enhance safety for children and pets:

A pool fence acts as a physical barrier, preventing unsupervised access to the pool area, thus reducing the risk of accidental drowning.
It serves as a deterrent for small children and pets, ensuring they cannot enter the pool area without adult supervision.

Comply with local laws and regulations:

Many jurisdictions have specific regulations in place regarding pool safety, including the installation of a fence. By adhering to these rules, you not only ensure the safety of your loved ones but also avoid potential penalties.

Reduce liability risks:

Installing a pool fence demonstrates responsible ownership, reducing the risk of accidents and potential lawsuits.
It provides peace of mind when hosting gatherings or having guests with children, as you have taken the necessary precautions to prevent accidents.
10 Inexpensive Pool Fence Ideas
1. Glass Pool Fences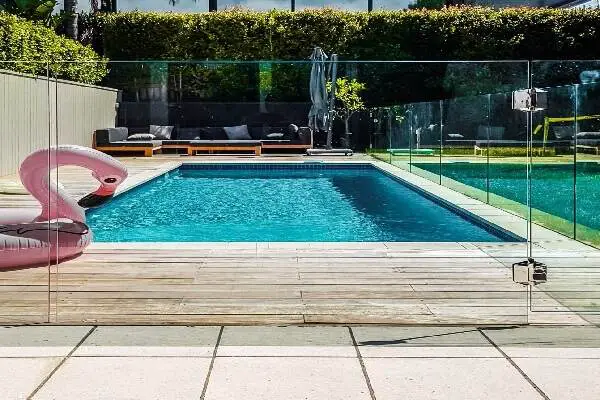 Glass pool fences are a great way to add safety and privacy to your pool area while still allowing for an unobstructed view. They are made of tempered glass which is very strong and durable, so they will last years without any issues.
Glass pool fences can be installed without having to drill into the deck or concrete around the pool – making them one of the most convenient types of fencing available. They also tend to be very easy to clean and maintain, which is another plus point in their favor.
2. Mesh Pool Fences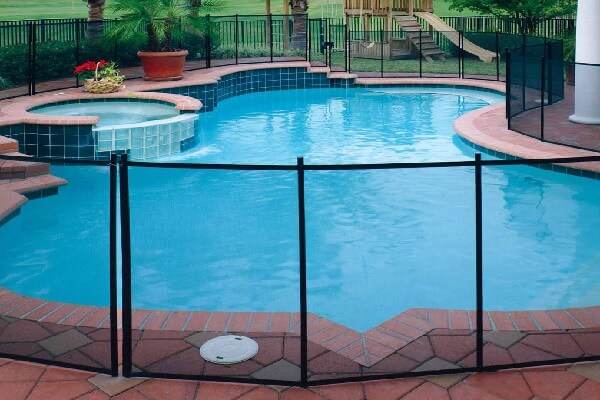 Mesh pool fences are popular for a reason- they are durable, secure, and affordable. They come in a variety of styles and colors and can be installed by either professionals or do-it-yourselfers. Prices start at around $16 for an average fence.
3. Wood Pool Fences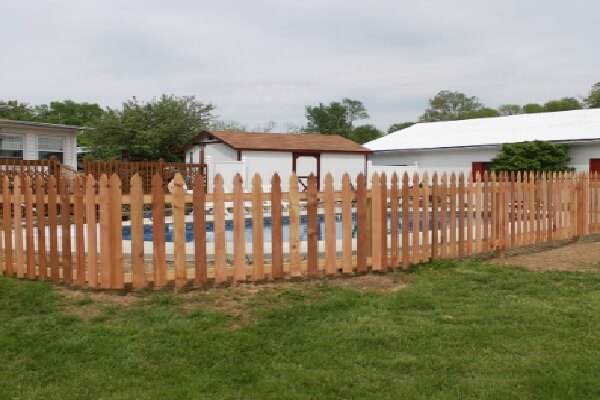 There are many attractive and durable wood pool fences to choose from. If you're on a budget, wooden fencing is an excellent choice as it's a relatively inexpensive pool fence idea and easy to install. You can also find wood pool fences in different styles that will perfectly match your home décor.
Be sure to choose a sturdy wood fence that can handle the elements of weather extremes such as rain, snow, or sun exposure – for years to come. And if cost is really an issue for you, be sure to check out our cheap pool fence options too!
4. PVC Pipe Pool Fences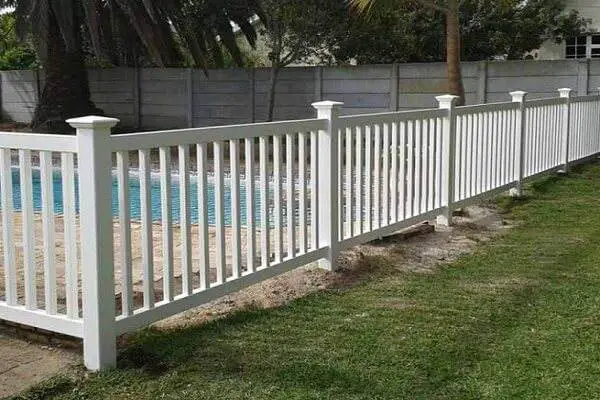 If you're looking for an affordable and easy-to-install pool fence, PVC pipe pool fences are a great option. You can pick them up in different colors or styles to match your pool area, and they are also durable enough to last for several years.
5. Bamboo Pool Fences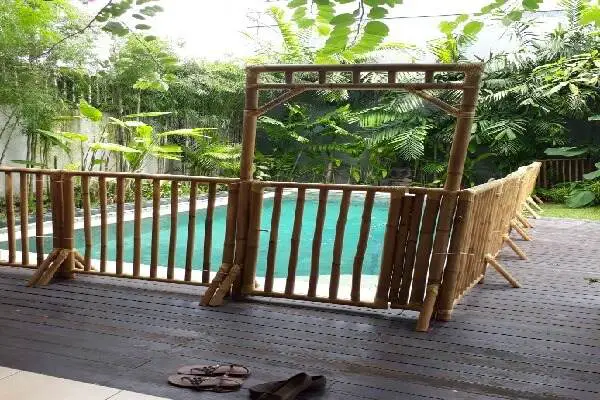 Bamboo is a great material to use for pool fences as it is eco-friendly and durable. It also looks beautiful when paired with wooden fencing, making it the perfect choice for those who are looking to add some natural charm to their outdoor space.
Moreover, bamboo pool fence panels can be easily found at most home improvement stores. This makes installation a breeze – you don't even need any professional help!
6. Wrought Iron Pool Fences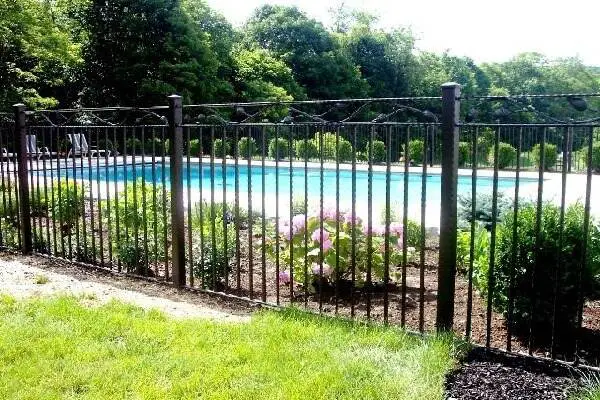 If you're looking for a classic pool fence that will look great in any backyard, wrought iron is the perfect choice. Its beauty and elegance cannot be overstated – it's definitely a pool fence to add to your wish list.
Additionally, wrought iron pool fences are quite affordable, making them an ideal investment. They are easy to install – so you can have your new fence up and running within no time at all! If you're wanting something unique and stylish but don't want to break the bank, wrought iron fencing is the ideal option for you.
7. Stone or Brick Pool Fences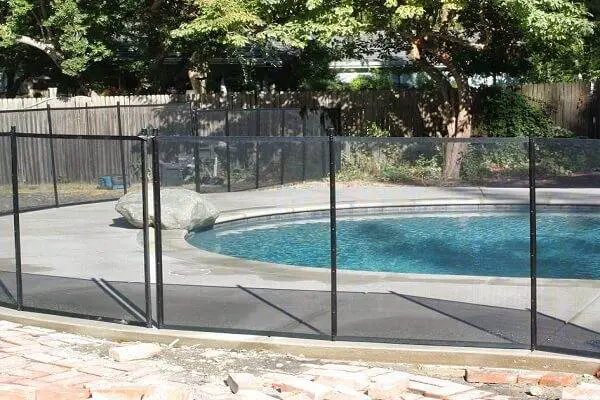 Stone or brick pool fences are a classic and elegant choice for those looking for a pool fence. They come in a variety of colors to match your home's exterior, can be customized with different designs and patterns, and are easy to install and maintain – just needs occasional cleaning with a hose or pressure washer. The cheapest price is always good news!
8. Concrete Block Pool Fences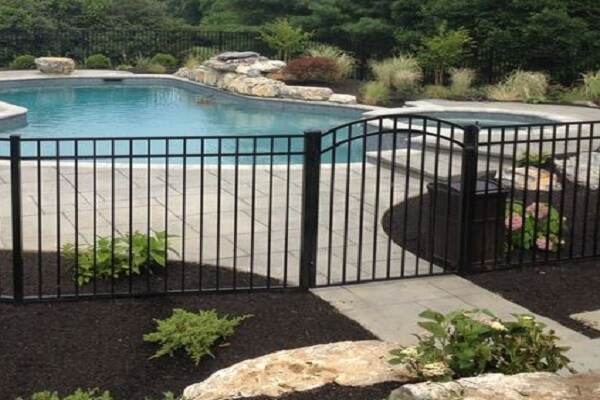 Concrete block pool fences are one of the most affordable and practical fence options available. They are also very durable and can last for many years with proper care. These types of fences can be easily customized to fit your specific needs and taste.
You can find pre-made kits at your local home improvement store or order them online. As the cheapest fence option, concrete block pool fencing is a great choice if you're on a budget.
9. Pallet Pool Fences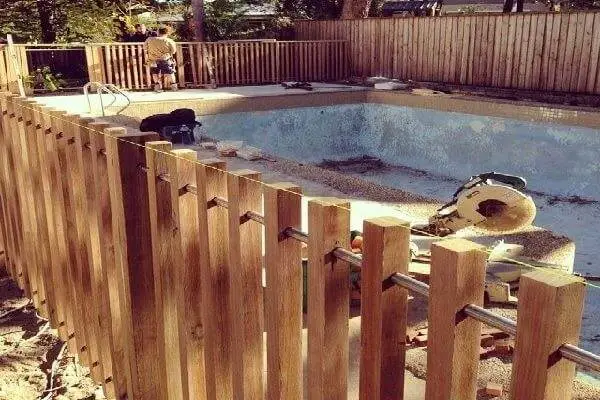 Have you ever thought of using pallets to create a pool fence? Well, now is the perfect time as they are quite inexpensive pool fence ideas and easy to work with. All you need is some basic carpentry skills and a few pallets. Then, you can either build the fence from scratch or use pre-made panels.
Whichever route you choose, your pool will be safe from harm while remaining affordable. Fencing made out of pallets looks great in any backyard!
10. Chain Link Pool Fencing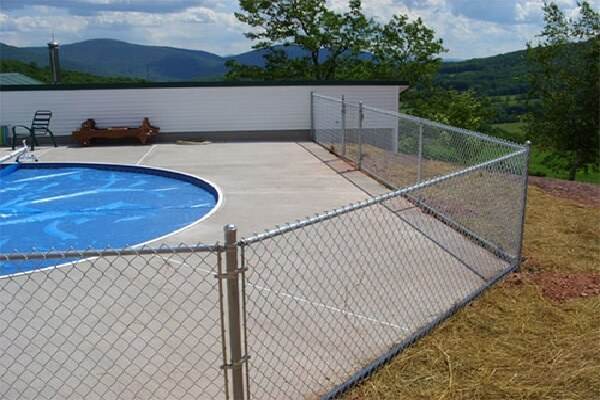 Chain-link fencing is a great way to secure your property and keep unwanted people or animals out. Here are five things you need to know about this type of fence:
1. Chain-link fencing is often used for residential properties, as it's durable and rustproof.
2. It comes in various heights – from 4 feet up to 8 feet high – so you can choose the perfect option for your needs.
3. You can install chain-link fences using either screws or welds, depending on your preference and the materials you have at hand.
4. The mesh size of chain-link fencing ranges from 6 inches up to 2 inches wide, which gives it an effective barrier against larger animals such as pigs or deer but also allows smaller creatures such as birds access through the netting area.
Factors to Consider When Choosing an Inexpensive Pool Fence
When selecting an inexpensive pool fence, it's important to consider various factors to ensure you make the right choice for your specific needs.
Material options and their pros and cons:

Different materials, such as chain link, mesh, vinyl, bamboo, and picket, offer varying levels of affordability, durability, and aesthetics.
Understanding the advantages and disadvantages of each material will help you make an informed decision.

Style and design considerations:

The style and design of the pool fence should complement your outdoor space while providing the necessary safety.
Consider the overall aesthetics of your backyard and choose a fence style that blends well with the surroundings.

Ease of installation and maintenance:

Some pool fences require professional installation, while others can be easily installed as a DIY project.
Maintenance requirements can vary depending on the material, so consider the time and effort you are willing to invest in upkeep.
Conclusion
Ensuring pool safety doesn't have to be expensive. By exploring the various inexpensive pool fence ideas mentioned above, you can find a solution that suits both your budget and safety requirements.
Remember to consider factors such as material options, installation ease, and maintenance needs when making your choice.
By taking proactive measures to enhance pool safety, you can enjoy peace of mind and protect your loved ones from potential accidents.