Remodeling your home can be a great way to add value, comfort, and style to your living space. But, with so many options and materials to choose from, it can be difficult to know just how much you can get done with a set budget. In this article, we will explore what $100,000 can buy you in the world of home remodeling and what options are available to make the most of your investment.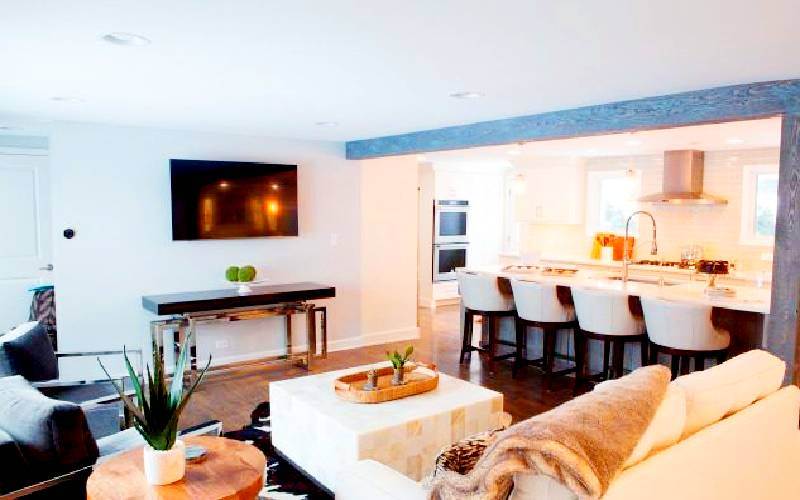 Kitchen Remodel
The kitchen is often considered the heart of the home and a key selling point in any property. A full kitchen remodel can cost anywhere from $20,000 to $50,000 depending on the size of your space and the materials and appliances you choose.
If you have a smaller kitchen, you can expect to spend less on your remodel. For example, if you want to upgrade your cabinets, countertops, and flooring, you may be able to get away with spending as little as $10,000. On the other hand, if you have a larger kitchen with more space to work with, you may want to consider installing high-end appliances, custom cabinetry, and a center island. These features can easily push your budget up to $30,000 or more.
Bathroom Remodel
Like the kitchen, a bathroom remodel can also vary greatly in cost depending on the size and features you want. A simple bathroom remodel that includes new fixtures, flooring, and lighting can cost around $10,000. If you want to add a spa-like feel to your space, with a new shower, tub, or steam room, you can expect to pay anywhere from $15,000 to $30,000 or more.
It's also important to consider the cost of plumbing and electrical upgrades when remodeling a bathroom. You may need to replace old pipes and electrical wiring to accommodate new fixtures, which can add several thousand dollars to the total cost of your remodel.
Flooring
Updating your flooring can be a great way to refresh the look of your home and increase its value. The cost of new flooring will depend on the type of material you choose and the size of the area you want to cover.
Hardwood flooring is a popular choice for many homeowners, and the cost can range from $5 to $12 per square foot. If you have a large living space, this can quickly add up, making hardwood flooring one of the more expensive options.
Laminate flooring is a more affordable option that can mimic the look of hardwood, but it may not have the same durability and quality. On average, laminate flooring costs around $2 to $5 per square foot.
Carpet is another popular flooring option that can be less expensive than hardwood or laminate. The cost of carpet will depend on the quality of the material and the size of the area you want to cover. On average, carpet can cost anywhere from $2 to $10 per square foot.
Painting
A fresh coat of paint is a quick and easy way to update the look of your home without breaking the bank. The cost of painting will depend on the size of your home and the quality of paint you choose.
If you plan on hiring a professional painter, you can expect to pay anywhere from $2,500 to $5,000 for a medium-sized home. If you're handy with a paintbrush, you can save money by doing it yourself, but be prepared to invest time and energy into the project.
Final Thoughts
With $100,000, you can do a significant amount of remodeling to your home, from updating your kitchen and bathroom to replacing your flooring and adding a fresh coat of paint. The key is to prioritize your wants and needs and make smart decisions about where to spend your money.
When planning your remodel, it's important to work with a trusted contractor who can help you stay within your budget and achieve the results you're looking for. With the right planning and execution, your home can be transformed into the stylish and comfortable living space you've always wanted.