When it comes to bathroom color ideas, there's no wrong answer – as long as you pick colors that are both contemporary and beautiful.
So whether you're a daring risk-taker or a more conservative shopper, check out our list of 10 bathroom wall paint colors that will steal your heart! From soft and calming neutrals to playful pops of color, these shades are sure to please.
Once you've picked the perfect color for your bathroom, be sure to schedule a consultation with one of our color experts to get started!
Try neutrals in the bathroom for a fresh look
Bathrooms are often the room in the house that gets the least love. But that doesn't mean they can't be stylish and modern.
To get the look you want, start with the bathroom wall paint color. Choose a neutral color that will be versatile and work well with any decor style. From there, it's easy to update the color throughout the year without having to redo the entire bathroom. You can find neutrals in both bright and dark tones, so there's sure to be one that fits your style.
And last but not least, neutrals can be calming and relaxing, so they make a great bathroom color for anyone looking for a tranquil space.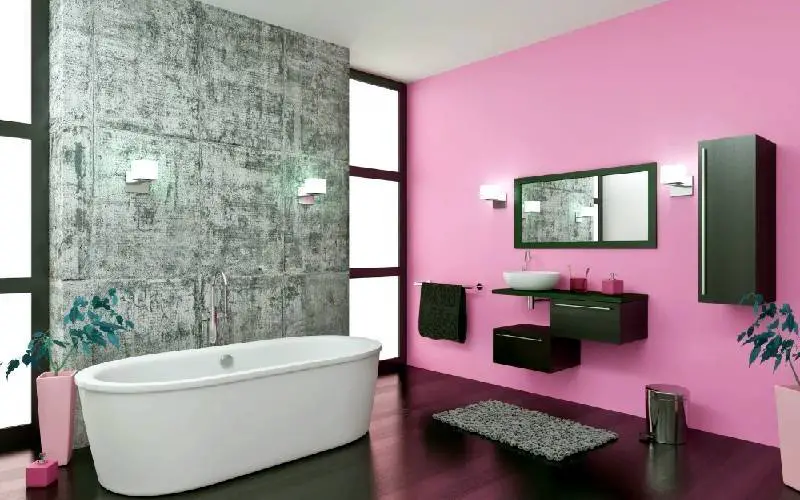 Keep it simple by going with one or two colors
Bathroom walls can be a little bland – that's why it's so important to add a little color to the mix. Whether you're looking for a bold hue or something more subtle, one or two colors will do the trick. This will keep your walls from becoming overcrowded and cluttered, making them easier to manage.
Additionally, adding a little color can really brighten up your bathroom and make it feel more spacious! When choosing your colors, don't be afraid to be creative. Just be sure to pick something that you love and stick to it!
Top 10 Bathroom Wall Paint Colors
We've compiled the top 10 bathroom wall paint colors that will inspire you. From neutrals to dreamy colors, these colors will match any bathroom style. So go ahead and paint your bathroom walls in a color that will absolutely captivate your heart!
Newburyport Blue
Newburyport blue is the color of tranquility and serenity. It's a soft, dreamy hue that will make you feel at home in your bathroom. This color goes well with any design theme – rustic or sleek – and can be paired with a neutral color to tie everything together easily.
Be sure to keep it simple by going for a neutral hue like white or cream! For an even softer look, try Newburyport blue mixed with baby powder paint.
Mopboard black
Looking for a bathroom color that will be versatile and stylish? Look no further than Mopboard black! This hue is perfect for any bathroom, as it goes great with modern or traditional décor.
It's also easy to clean – just use a mop and bucket! And if you have small spaces to work with, don't worry; this color won't take up too much space. So why not choose Mopboard black today?
Simply white
When it comes to bathroom paint, white is the perfect color choice. It's minimalist and gives an air of sophistication to any room.
Whether you're looking for a cool modern look or just want a basic bathroom that works with any decor, white is the go-to hue! Additionally, when it comes to wall paint, simplicity is key – which is why white paint happens to be one of the best options for bathrooms.
There are many other colors available in bathroom wall paints but they often come with complicated instructions or have harsh chemicals that can be harmful when inhaled. Lastly, using white paint in any room will give your space a fresh and updated look.
You can even use white paint in the kitchen – giving your space that bright and spacious feeling without having to splash out on expensive decor items!
Chartreuse
Chartreuse is a color that goes well with other light colors and will not overpower the space. It can be used in any bathroom style – modern, traditional, or country – and it's perfect for all seasons. This hue also has a versatile nature, being able to be used in both modern and traditional designs.
Fruit shake
Think of fruit shake as the room-conditioning solution for your bathroom! This cheerful color palette is perfect for a more playful and upbeat bathroom.
Just mix two or three colors together to get the desired effect, and you're done! Fruit shakes can also be used to inject some life into a bedroom or any other room in your home that needs a little TLC.
Lush
Lush bathroom paint is perfect for those with a spacious bathroom and high ceilings. It comes in a range of colors that will suit any personality, and it also adds some life to an otherwise mundane space. If you're looking for something different but still want the look of traditional paint, luscious bathroom paint is the option for you!
Old claret
When it comes to bathroom color, claret is a versatile option that can be used as a standalone color or to tie together other elements in the room.
It's a warm, earthy color best suited for modern bathrooms – busy spaces that need an update fast! Plus, it goes well with both contemporary and traditional designs. Best of all, this hue is quick to pick up and doesn't require much maintenance – perfect if you're on a tight budget!
Charcoal slate
Charcoal slate is a color that goes great with any design or décor. It can be used to spruce up traditional bathroom designs and make them look more modern at the same time.
Additionally, charcoal slate is perfect for people who like to change things up often – there's always something new to explore! Moreover, charcoal slate has the ability to make your bathroom feel spacious and high-end at the same time.
So if you are looking for an edgy color scheme that will complement all of your favorite decor items, then charcoal slate should be on your list!
November skies
November skies are the perfect way to brighten up your bathroom and add some color. From soft pink to bold oranges, these ten colors will instantly transform your space into a cheerful one.
Apart from bathrooms, you can also use these mesmerizing tints in any room of your home – they will make it feel more alive and inspired! So, why not try out November skies this autumn? You won't regret it!
Metropolitan
Metropolitan bathroom paint is perfect for busy ladies who want a bathroom that stands out. With an easy-to-apply formula, Metropolitan bathroom paint leaves a long-lasting finish and comes in different colors to suit any décor.
It's also suitable for residential and commercial settings alike, making it the perfect choice for anyone looking for premium color reproduction without the hassle of overspray or hidden brushstrokes.
bathroom color reference
https://www.benjaminmoore.com/en-us/project-ideas-inspiration/interiors/bathroom-ideas-inspiration