There are so many inexpensive bedroom sets ideas out there, and they don't all have to cost a fortune! From the bed and headboard, to the furniture around it, everything in your bedroom should be functional and of high quality.
Unfortunately, that's not always realistic for college students or young professionals living on a budget. Luckily, there are plenty of inexpensive furniture options that you can explore without breaking the bank.
We'll talk about some of the furniture options you can choose from to create your dream bedroom set without burning a hole in your pocket. But before we get into all that, let's discuss how you can select furniture that's within your budget and fits your style preferences.
10 Inexpensive Bedroom Set Ideas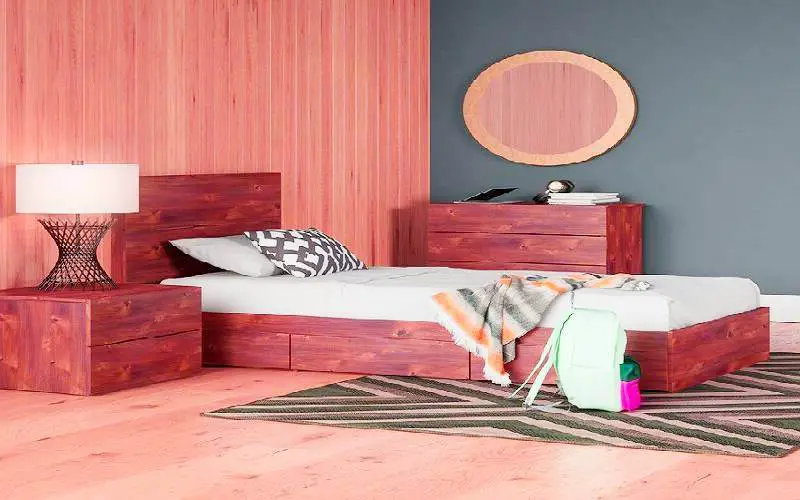 1. Choose a Sharply Designed Platform Bed
When shopping for bedroom furniture, be sure to look for pieces with a sleek and modern design. A platform bed is a great option as it will give your room a stylish look without breaking the bank. It is also comfortable and versatile, so it can be used for both sleeping and sitting.
Choose a bed with a solid wood frame and a neutral color palette for a timeless look. Add some accent pieces to make your bedroom feel more inviting, such as throw pillows or wall art.
Consider how much storage you need in your bedroom and choose furniture that has plenty of drawers and shelves to store items. Finally, select furniture pieces that are made of quality materials so they will last for years to come.
2. Upgrade With an Upholstered Headboard
An upholstered headboard is an easy and affordable way to upgrade your bedroom set. Upholstered headboards add a touch of sophistication and comfort to any bedroom. Upholstered headboards come in a variety of colors, materials, and styles, so you can find one that fits your personal taste and budget.
Whether you're adding extra texture and color to the room or making your bed more comfortable, an upholstered headboard is a great way to upgrade your bedroom set and make it feel more modern and chic.
An upholstered headboard is also great for reading in bed or watching television in a comfortable position. They are versatile pieces that can be used in a variety of settings and can easily be shoe-horned into smaller spaces.
3. Go Minimalist with a Sleigh Bed Frame
A sleigh bed frame is a classic and timeless design that will fit any budget. This type of frame is often made of wood or metal and can be found in a variety of colors and styles.
For an even more affordable option, consider purchasing a used sleigh bed frame. These types of frames are often available at affordable prices as they are typically discarded after one use and then resold.
The simplicity of the frame makes it easy to mix and match with other pieces in the room. Instead of purchasing an expensive bed frame, focus on picking out colorful linens, blankets, and throw pillows to dress up your bedroom look and make it feel cozy and comfortable.
By incorporating affordable bedroom sets into your bedroom decor, you can maximize the space and create a cozy, welcoming atmosphere.
4. Add Functionality with Bunk Beds
Bunk beds can be a great solution for small bedrooms, as they provide extra sleeping space without taking up much floor space. B bunk beds come in a variety of styles, from traditional to contemporary designs.
They can be customized to suit your unique bedroom decor. You can choose between single and dual-bed models, or opt for a model with built-in storage. Most bunk bed designs feature multiple drawers and shelves for storage, making them both stylish and functional.
Besides, bunk beds are also easy to move from one location to another; simply turn the bed over and transport it in its box. If you are looking for a versatile and affordable option for your bedroom, consider investing in bunk beds.
5. Create Seating Space With Daybeds
Daybeds are an inexpensive and space-saving way to create seating in your bedroom. Daybeds come in a variety of styles and can be dressed up with cushions, throws, and other accents to suit your personal style.
They are also available in a range of sizes, making them suitable for different bedroom sets and layouts. The drawers underneath some daybeds can be used for storage, making them even more versatile options.
Murphy beds are another space-saving option that can easily be folded against the wall panels when not in use. They provide extra sleeping space without taking up too much room in your bedroom.
Bunk beds are great for kids' rooms, as they provide extra sleeping space without taking up too much room. These beds typically come with multiple storage areas underneath to make it easier to dress up or dress down each bed.
6. Opt for IKEA Furniture
IKEA offers a wide selection of furniture for bedrooms in all shapes, sizes, and styles. Their furniture is both stylish and affordable, making it a great choice for those on a budget. IKEA's furniture pieces are designed to be easily assembled, which makes them perfect for DIY projects.
From dressers, nightstands, and beds to storage solutions, IKEA has something to fit any bedroom style. Whether you're looking for classic bedroom sets or more contemporary pieces, IKEA has you covered. From their range of colors and finishes to help you create the perfect look for your space, choose from an array of options to suit your preferences and budget.
7. Go With a White Theme
A white theme is a classic and timeless design for any bedroom. White furniture can make a room appear larger and brighter, while also creating a clean and modern look. White bedroom sets are usually more affordable than other options, making them an ideal choice for those on a budget.
By looking for bedroom sets with simple designs that won't date quickly, you can save money and stay within your budget without compromising on style. When shopping for an inexpensive bedroom set, consider shopping around for furniture with simple, clean lines that will function well together and will last longer than piece-by-pieces.
Additionally, be sure to check out the bedding and accessories available to add pops of color or texture to the room.
8. Choose Second-Hand Pieces
If you're looking to save money on bedroom furniture, buying second-hand pieces is a great option. Second-hand furniture often costs less than buying brand-new pieces, and it can be a great way to find unique and affordable pieces.
You can search for second-hand bedroom sets at thrift stores, garage sales, and online classifieds such as Craigslist. Before making any purchases, make sure that you inspect the furniture thoroughly and test it out to ensure that it is in good condition.
This will help ensure that you get the most value from your investment. Mixing and matching different pieces of second-hand furniture can give your bedroom a unique look without breaking the bank.
9. DIY Projects to Save Money
DIY projects can be a great way to save money on bedroom furniture. You could opt for second-hand pieces from thrift stores or yard sales, which can give your bedroom a unique touch.
Painting and refinishing existing furniture is another option that can freshen up the look of your bedroom on a budget. Instead of buying expensive new furniture, you could also build items yourself using woodworking plans or kits.
Searching online or at discount stores for deals on furniture sets will help you save money while finding the perfect set at a reasonable price.
10. Repurposing Old Furniture
Purchasing new bedroom sets can be expensive, especially if you're on a budget. But there are other ways to create a look for your bedroom without spending a lot of money.
For example, you can repurpose old furniture and transform it into a unique bedroom set. Look for items at garage sales, thrift stores, or online classifieds that can be refurbished or upcycled.
You can also use vintage pieces to create an eclectic look in your bedroom. For instance, incorporate an antique dresser or bench into your cozy bed frame.
When choosing furniture with simple lines and classic shapes, make sure that it will stand the test of time and fit within your current decorating style.
Finally, add some fun accents like pillows and artwork to make the room pop. By repurposing old furniture and creating a unique bedroom set, you can save money while creating a stylish look.
Conclusion
If you're looking to furnish your bedroom on a budget, there are plenty of ways to make it look expensive. From smart storage solutions to DIY projects, we've got you covered.
We hope these bedroom set ideas will help you create a bedroom that's both functional and stylish. Feel free to adapt any of the above ideas for your bedroom. Happy decorating!